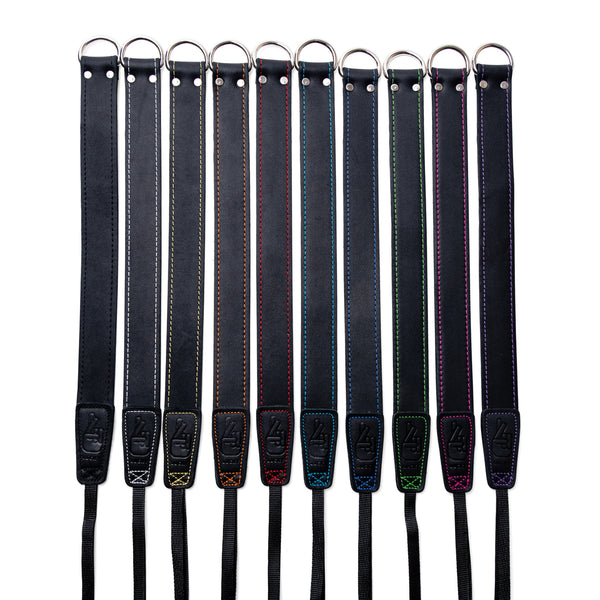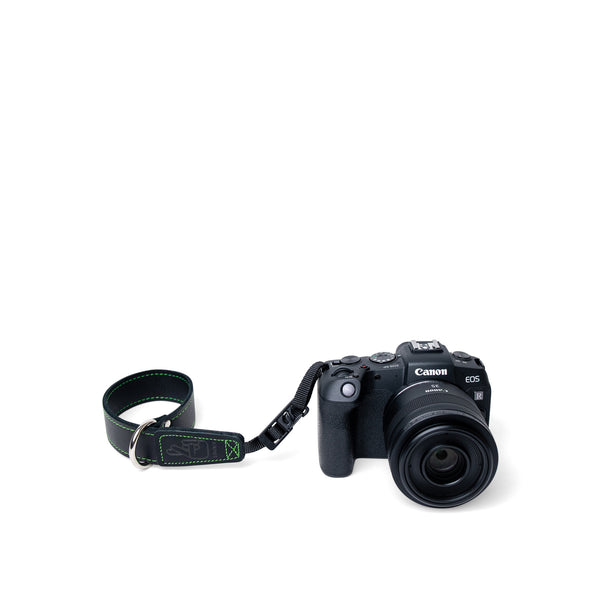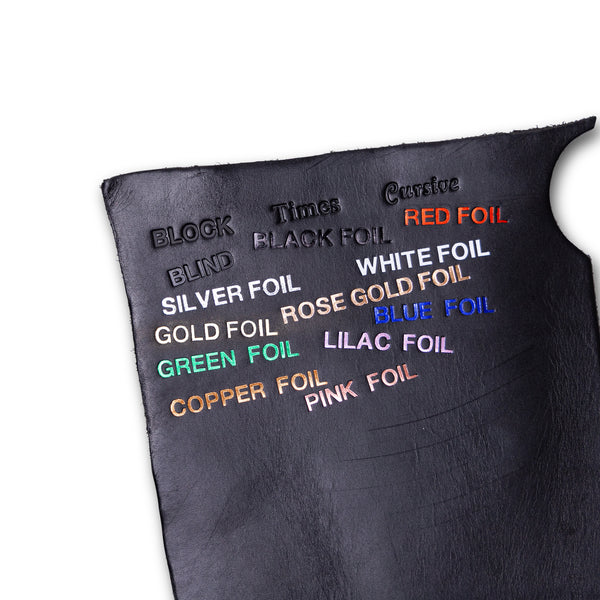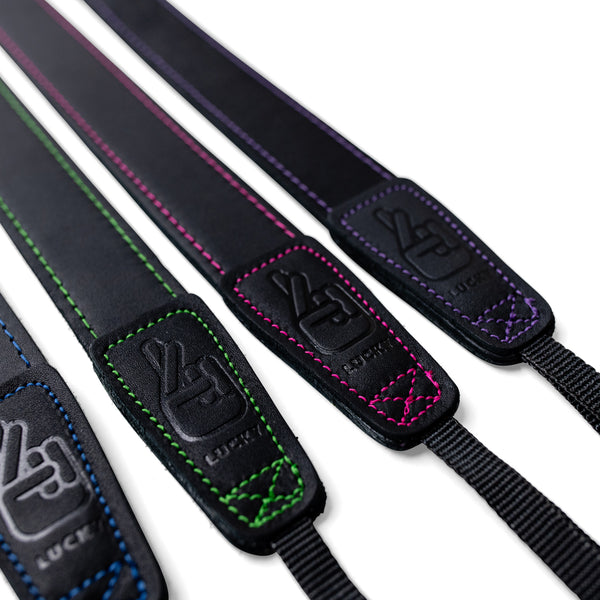 Wrist Strap - Matte Black
Our wrist straps are the perfect way to make sure your camera stays connected to you even if you drop it!  Based off our popular Slim 30 camera strap, these leather wrist straps are soft, comfortable and extremely durable.  

This stealthy Matte Black Leather is our newest find and we are so excited with this new range! The leather has a very fine surface grain which is what gives it the unique Matte texture. 

Choose from 10 accent stitching colours to complement your gear.  The stitching options can add a pop of colour while staying with the classic look of genuine black leather.  This leather is mostly a smooth finish but will feature a few small unique markings on every strap.
Now also available with our very own custom engineered quick release system so you can rapidly attach, adjust, detach and even swap camera straps during shoots. 

No need to wrap your stock camera strap around your wrist anymore
30mm (1 and 3/16") wide just like our Slim 30 shoulder straps
Choice of traditional ends or our new

 

Quick Release System
Quick Release System also features

 

anti-theft cut resistant Dyneema®

 

webbing and a safety lock for secure travel
Strong enough for all handheld cameras,

 

strength tested to over 16kg (35lb)
One size fits all design

Super soft upholstery leather feels awesome against your skin
Perfect for all camera sizes from Mirrorless to DSLR, and even large Medium Format Cameras
Australian Made with love in our Bendigo based factory
Fits almost any camera
Personalise it with your name or logo!
*See tabs below for more info on sizing and personalisation
Please Note: Does not include camera, lens or photographer in pictures. 

Quick Release System
For an in-depth overview of our Quick Release System please click here.
Details and Sizing
Will it fit me? 
To put it simply, yes!  Wrist straps are one size fits all so you only have to decide if you want our standard 30mm wide wrist strap or our thinner Simple 20 Wrist strap that is 20mm wide.

Strap Width - 30mm (1 3/16")
Strap Thickness  (body) - 2.4mm 
Main Body Length - 37.5cm (15")
Total Length - 67.5cm (26.5")
Max Diameter for wrist/hand - 10cm (4")
Will it fit my camera?
This strap will work with almost any camera, especially larger DSLR setups with heavy lenses.  It attaches in the same way as the stock strap that came with your camera, so basically any camera that has a set of 10mm webbing slots or rings will work!  Click here for more info.
How strong is it?
We have designed these straps to be worn all day with the heaviest pro DSLR setups so you can rest assured they are strong enough.  If you are looking for a weight I have lifted a 16kg kettlebell with a wrist strap without it breaking, but I hope your camera is not that heavy!
Personalisation Options
Any of our full leather camera straps can be personalised with a name or even a logo! 
The personalisation is achieved by hot pressing the letters into the leather resulting in a timeless look and feel.
You choose the embossing options on the product page as you are adding the strap to your cart.
Choice of three fonts - Block, Times or Cursive
Multiple Colour/Finish options 
Prices starting from just AUD$20 for initials only

Click here for detailed information and videos about our personalisation options
Leather Description
The perfect leather for a Ninja!
A smooth, Matte finish is what makes our newest leather so unique.  It is very strong, a little firmer to begin with but then softening up nicely with just a few uses.  The matte finish is great in adverse weather so this is a great choice for adventurous photographers. 
This leather does feature small round marks and some scars, which on the smooth finish will stand out a little begin with but as the strap softens they will blend in to the overall look.  
Wrist Strap Design
This strap is the same size as our Slim 30 neck/shoulder strap so it is 30mm (1 and 3/16") wide. This is a perfect size to be comfortable around your wrist but still strong enough for large pro sized cameras and lenses.  The leather strap threads through its own metal D ring allowing you to quickly tighten or loosen the strap around your wrist. 
Shipping, Returns and Warranty
COVID-19 Update
We are thankfully able to dispatch orders as normal at the moment.  Please be aware that unforeseen shipping and customs delays may occur on international orders.  Please choose the express shipping option where possible to minimise the chance of delays.
Handling Times
In stock straps will be dispatched in 1-3 business days.
In stock straps with text embossing will be dispatched in 1-3 business days.
Custom Logo straps can take 3-5 weeks before they are dispatched so please contact us before ordering if you have a specific date you need if for.
Shipping Prices - Listed In Australian Dollars
All the prices below are listed in Australian Dollars - AUD$10 is approx. US$6-7
All Australian and New Zealand orders are sent via Australia Post Standard and Express Services
Most International Express orders are sent with DHL and are estimated to be 3-8 business days not including any customs delays.
Standard international orders are sent via the postal network and include tracking to most countries. Average delivery times are 2-4 weeks.
If applicable, please be aware of your countries import taxes (such as the VAT in UK and EU) and duties as you will be responsible for paying any of these types of fees before you can pick up your parcel.
Shipping times (not including handling time)
Australia
Standard - 2-5 business days
Express - 1-3 business days 
USA and Canada
Standard - 1-3 weeks
Express - 3-6 business days (not including customs delays)
New Zealand
Standard - 2-6 business days
Express - 2-4 business days

UK and Europe (please look out for notices regarding pickup and VAT taxes)
Standard - 2 to 4 weeks 
Express - 5 to 8 business days (not including customs delays)

Rest of World (tracking not available to all countries)
Standard - 2 to 4 weeks
Express - 6-12 business days (not including customs delays)
Warranty and Returns
30 Day No Questions Asked Returns
LIFETIME Common Sense Warranty on Workmanship
For more information about warranty and returns please click here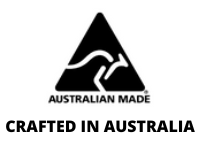 The Perfect camera Strap for a black Leica MA
I really love the quick release mechanism with The Lucky Strap as it has enabled me to create the perfect set up letting me switch easily between the wrist strap and the Camera strap on my new Leica MA camera. and the colours just work with the camera creating a low profile carrying option.
A worthy investment
When I'm not lugging my two camera bodies on a double harness, I am photographing portraits on a single wrist strap. And believe me when I say that this is the comfiest strap ever. The quality is next to none. It's made in Australia. It has the best function with the quick release clip. It's an investment that makes me feel so comfortable & I know it looks great too!
Red & black wrist strap
I have bought a few neck straps over the years and never found one that was comfortable for me so I reviewed heaps of wrist straps and settled on an Australian company Lucky straps. They make very high quality hand made straps. They look good finished off very well and are comfortable. The company are easy to deal with and genuinely care about their customers. I don't usually do reviews but these guys are not the average company they even make contact with the buyer after their straps arrived to make sure your happy with your purchase. You can't go wrong with their gear it's quality I think the wrist strap will out last my new camera.
And no I don't work for Luck straps 😀
Matte Black Leather Wrist Strap
Recently I purchased a Leica SL2-S. This thing is big and heavy. With a 50 mm Manual lens it comes in at nearly 3 pounds(1350 gms). I looked all over for a wrist strap that could not only handle the weight, but would fit around a pretty large hand. By a stroke of luck was I able to find the Lucky Camera Straps website. After reading all about the products and watching the videos, I purchased the Matte Black Leather Wrist strap with the Quick Release System. It arrived in Houston within a week and I slapped that buddy on my camera and it worked perfectly. The Quick Release fit the camera lug. My hand slipped through with little effort. It felt good and just simply works. I was impressed with the quality and workmanship of the Strap and highly recommend these fine folks for their quality product. If their other products are anything like the Wrist Strap, you will not be disappointed and their pricing is spot on. Thank you.
Quality Wrist Strap.
This wrist strap is made with top quality materials and construction. Perfect on my Nikon D850 with a nice secure feel to it when moving around shooting hand held. The strap closes around your wrist nicely making it really comfortable to use.