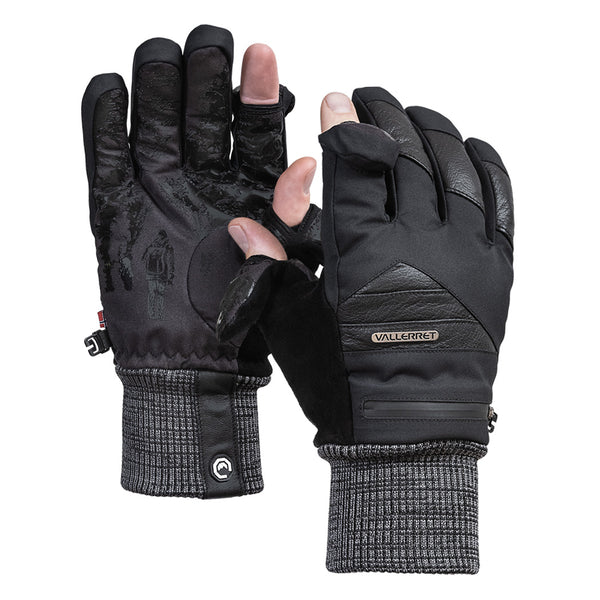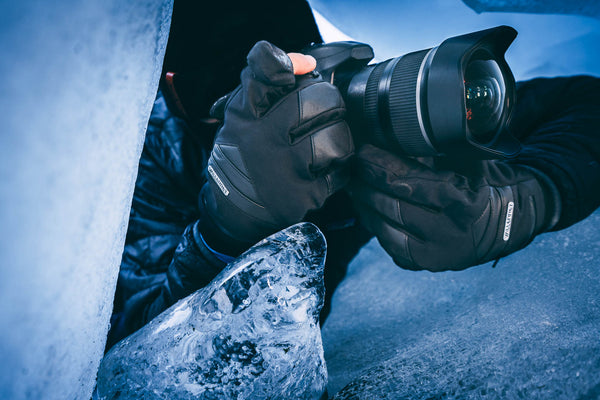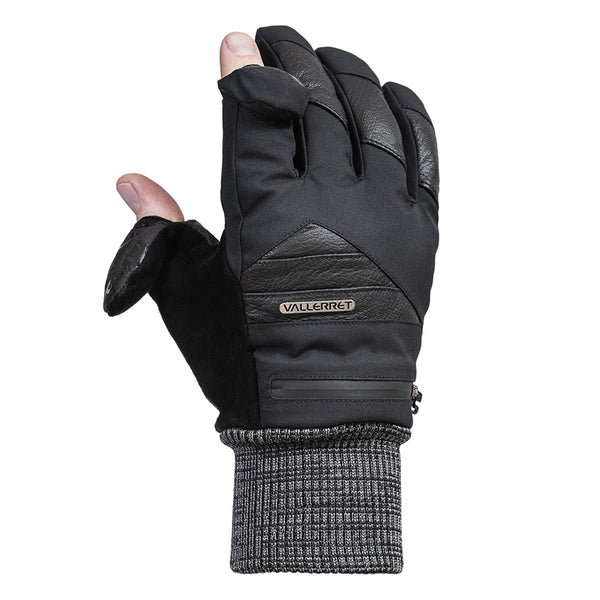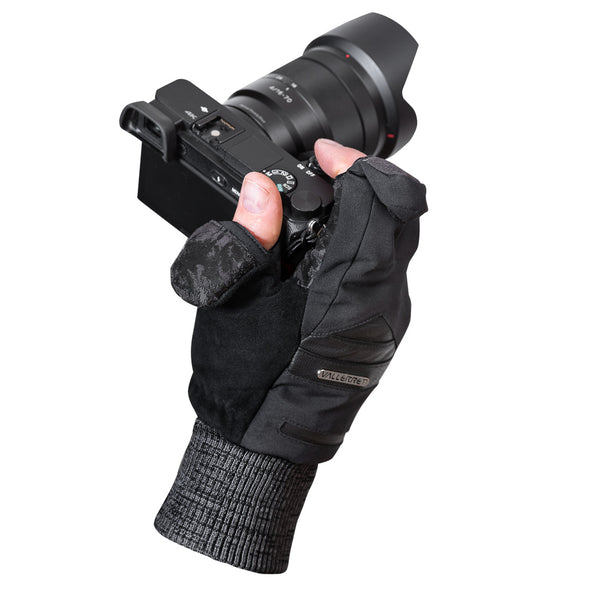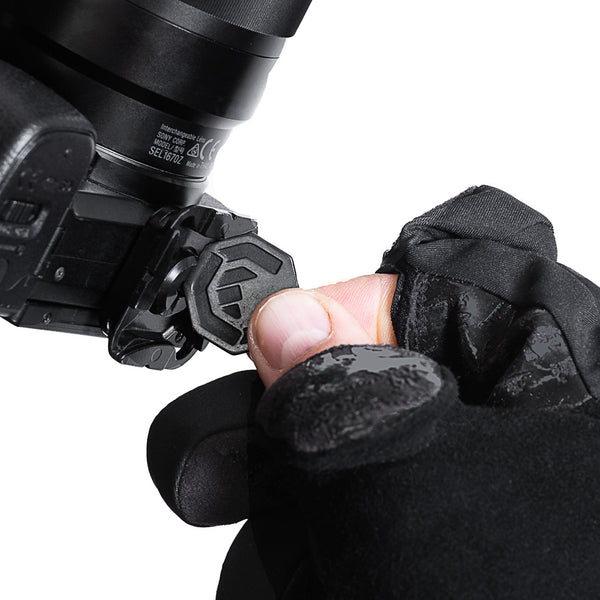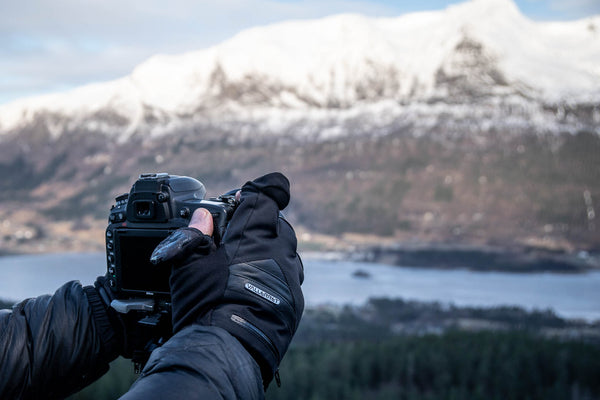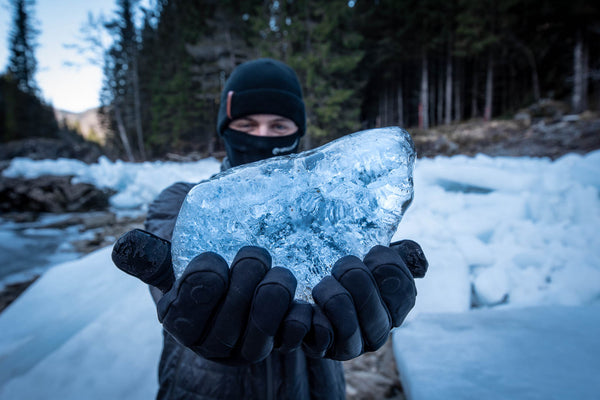 Markhof Pro V3 Photography Glove
FOR YOUR EVERYDAY WINTER PHOTOGRAPHY
Regular winter gloves make it nearly impossible to adjust settings or change a lens.

As a result, many photographers take their gloves off and choose to struggle with cold hands to maintain usability of their camera.  Vallerret Photography Gloves are designed in Norway to keep your hands toasty warm while still allowing access to to your camera while shooting.
The Markhof Pro V3 is the next generation of Vallerret's versatile "take everywhere" functional and stylish Photography Glove.
100 % Merino Wool inner
FlipTech finger caps with magnets
DWR Genuine Goats leather
Thinsulate Insulation (C100/C70)
True Suede lens Wipe
Pre-Curved Glove Design
Non-Slip Grip with Unique Print
Memory Card Pocket Embedded with Tripod Key
Stretchy Jersey cuff
They have taken all the best elements of the previous Markhof Pro Model versions, and given them some umph! Creating a warm and fitted glove with an excellent camera feel, the V3 has everything you would expect from a great photography glove.
From the streets to the peaks, the Markhof Pro V3 continues to be a fan favorite.

Designed for: Mid Winter (basically as cold as it ever gets here in Australia!)
These gloves are designed and manufactured by Vallerret and are not a product of our Australian factory.
Sizing Guide
Please note, these gloves are designed to fit snuggly to give you the best camera feel without compromising on warmth. If you prefer a looser fit, please consider to go a size up.

As we learn more and more about gloves we also learn that all hands are different. Some people have long skinny fingers and slim wrists, others have wide hands with short fingers.

Vallerret gloves wont fit all even with the right measurements from the sizing chart – but we try!
What size should I get if I'm between sizes?
For many, the best option will be to go up a size if your measurements are in between sizes.

If you are between sizes or if your hands do not fit into the measurements on our sizing chart, we recommend prioritising the fit for the girth measurement. The girth is the most important measurement and if the girth size on the glove is too small, you won't be able to fit the glove.
Shipping, Returns and Warranty
COVID-19 Update
We are thankfully able to dispatch orders as normal at the moment.  Please be aware that unforeseen shipping and customs delays may occur on international orders.  Please choose the express shipping option where possible to minimise the chance of delays.
Handling Times
In stock straps will be dispatched in 1-3 business days.
In stock straps with text embossing will be dispatched in 1-3 business days.
Custom Logo straps can take 3-5 weeks before they are dispatched so please contact us before ordering if you have a specific date you need if for.
Shipping Prices - Listed In Australian Dollars
All the prices below are listed in Australian Dollars - AUD$10 is approx. US$6-7
All Australian and New Zealand orders are sent via Australia Post Standard and Express Services
Most International Express orders are sent with DHL and are estimated to be 3-8 business days not including any customs delays.
Standard international orders are sent via the postal network and include tracking to most countries. Average delivery times are 2-4 weeks.
If applicable, please be aware of your countries import taxes (such as the VAT in UK and EU) and duties as you will be responsible for paying any of these types of fees before you can pick up your parcel.
Shipping times (not including handling time)
Australia
Standard - 2-5 business days
Express - 1-3 business days 
USA and Canada
Standard - 1-3 weeks
Express - 3-6 business days (not including customs delays)
New Zealand
Standard - 2-6 business days
Express - 2-4 business days

UK and Europe (please look out for notices regarding pickup and VAT taxes)
Standard - 2 to 4 weeks 
Express - 5 to 8 business days (not including customs delays)

Rest of World (tracking not available to all countries)
Standard - 2 to 4 weeks
Express - 6-12 business days (not including customs delays)
Warranty and Returns
30 Day No Questions Asked Returns
LIFETIME Common Sense Warranty on Workmanship
For more information about warranty and returns please click here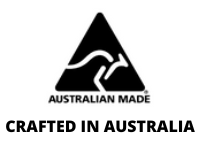 Great gloves
I purchased these gloves just before heading to Alaska late last year. Great product, kept my hands very warm while still allowing me to operate my camera. Great quality and the gloves look great too.
Great Gloves
Keeps my hands so warm and easy to fold the thumb and finger down on each glove when I need to be more precise. I am glad that I purchased these a great quality set of gloves that make camera work on the colder nights a doddle.
Warm as Toast !
I bought these from Justin and the crew at Lucky Straps this year (2022)and tested them whist up at the high country in Victoria. All I can say is that they kept my hands as warm as toast without compromising on touch and suppleness.
The fit is true and they will give a little, but only slightly. Overall, another outstanding product at Lucky Straps ! Thanks guys :)
Great gloves for photography that do what they say they'll do
Serendipitously I had just had a wet and cold photography experience in the You Yangs when I came home to find that Lucky Strap was stocking Vallerret photography gloves. A quick pass through some online reviews and I purchased the Markhof v3 in Medium. They basically do what they say they are going to do - the grip on the palm keeps your camera firmly in hand, the flip back finger tips get held in place by magnets and let you get on with using your camera, and everything just works together really nicely in (Melbourne grade) cold weather. I've had them out in just below freezing temperatures, and it was fine, but I wouldn't want to go much lower than that without an additional layer.
For sizing, the chart and guidance provided here on Lucky Strap seems to be on point - I was in the middle of the range for M, and they fit snug and firm though without any dramas getting them on and off. Recommended.
(as an aside, one quick trial in the car shows that I can't wear these while driving - the grip on the palm made smooth steering a chore - so they aren't an all in one solution for all cold weather uses)