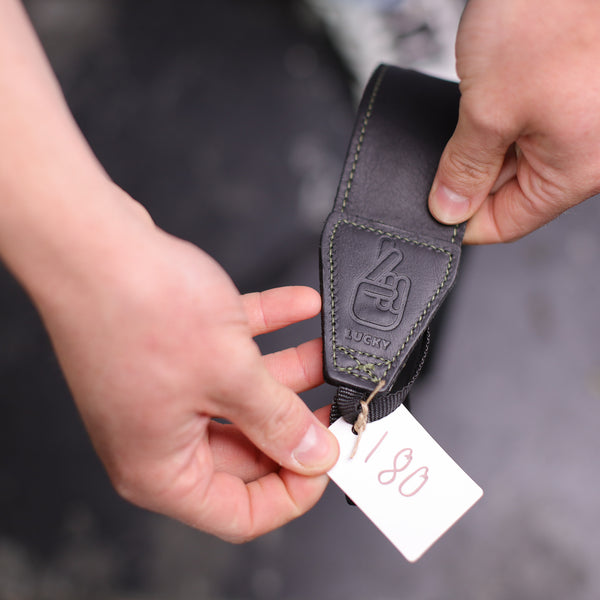 Standard 53 Matt Black (green stitching) Regular Length Quick Release 180
 ***This strap is part of our Perfectly Imperfect Sale***
Please read the description carefully, this strap is unique why is why it is such a great deal!
Strap Type - Standard 53
Leather Colour - Matt Black
Strap Length - Regular Length
Connection Type - Quick Release 

Why is this strap unique?

[Leather Blemish] This strap is actually awesome, it just has natural leather markings that some customers may not expect when ordering so we kept it aside to sell it to a Lucky customer that prefers a bit of character!  It still comes with our full lifetime workmanship warranty and is more than strong enough to carry and protect your beloved camera. 
All the information about sizing and Quick Release vs Traditional connection can be found in the tabs below.
For our full range of new Standard 53 straps plus more images and information about the options available please click here.
Quick Release System
For an in-depth overview of our Quick Release System please click here.
Details and Sizing
Will it fit me?
The Standard Length is little longer than a stock strap, perfect for using as a traditional neck strap or hanging off one shoulder.  Also works as a cross body strap for most people up to about 170cm (5'7" tall). 
Our Long Length straps are 25cm longer than our Standard Length which makes them better for wearing across the body for people over 170cm (5'7") tall.
More detailed info on choosing a strap here.
Will it fit my camera?
This strap will work with almost any camera, especially larger DSLR setups with heavy lenses.  It attaches in the same way as the stock strap that came with your camera, so basically any camera that has a set of 10mm webbing slots or rings will work!  Click here for more info.
How strong is it?
We have designed these straps to be worn all day with the heaviest pro DSLR setups so you can rest assured they are strong enough.  If you are looking for a weight I have attached 50kg (115lb) of weight to a camera without the strap breaking, but I hope your camera is not that heavy!  
Personalisation Options
Any of our full leather camera straps can be personalised with a name or even a logo! 
The personalisation is achieved by hot pressing the letters into the leather resulting in a timeless look and feel.
You choose the embossing options on the product page as you are adding the strap to your cart.
Choice of three fonts - Block, Times or Cursive
Multiple Colour/Finish options 
Prices starting from just AUD$20 for initials only

Click here for detailed information and videos about our personalisation options
Leather Description
A stunning milled and pre-softened version of our Chestnut Brown. It is a full grain oiled pull-up leather that has been through a special process to simulate natural ageing.
It has tonnes of character and unique markings making each strap a little different.

Standard 53 Design

This design was our first camera strap and is by far our most popular strap of all time!  The 'Standard 53' is wider, longer and handmade from soft leather so that you can carry your DSLR all day without getting sore.
Unlike our Simple range, the body of the Standard 53 is actually two pieces of leather which is glued back-to-back and stitched together for a lifetime of durability. We then add our embossed end pieces which are also glued and stitched to connect the 10mm webbing ends to the main body.
Shipping, Returns and Warranty
COVID-19 Update
We are thankfully able to dispatch orders as normal at the moment.  Please be aware that unforeseen shipping and customs delays may occur on international orders.  Please choose the express shipping option where possible to minimise the chance of delays.
Handling Times
In stock straps will be dispatched in 1-3 business days.
In stock straps with text embossing will be dispatched in 1-3 business days.
Custom Logo straps can take 3-5 weeks before they are dispatched so please contact us before ordering if you have a specific date you need if for.
Shipping Prices - Listed In Australian Dollars
All the prices below are listed in Australian Dollars - AUD$10 is approx. US$6-7
All Australian and New Zealand orders are sent via Australia Post Standard and Express Services
Most International Express orders are sent with DHL and are estimated to be 3-8 business days not including any customs delays.
Standard international orders are sent via the postal network and include tracking to most countries. Average delivery times are 2-4 weeks.
If applicable, please be aware of your countries import taxes (such as the VAT in UK and EU) and duties as you will be responsible for paying any of these types of fees before you can pick up your parcel.
Shipping times (not including handling time)
Australia
Standard - 2-5 business days
Express - 1-3 business days 
USA and Canada
Standard - 1-3 weeks
Express - 3-6 business days (not including customs delays)
New Zealand
Standard - 2-6 business days
Express - 2-4 business days

UK and Europe (please look out for notices regarding pickup and VAT taxes)
Standard - 2 to 4 weeks 
Express - 5 to 8 business days (not including customs delays)

Rest of World (tracking not available to all countries)
Standard - 2 to 4 weeks
Express - 6-12 business days (not including customs delays)
Warranty and Returns
30 Day No Questions Asked Returns
LIFETIME Common Sense Warranty on Workmanship
For more information about warranty and returns please click here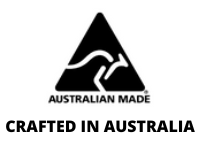 Fantastic Camera Strap
I purchased a Fujifilm X-T30 II for our trip to Germany to replace our aged Nikon D40. Needless to say the strap included with the X-T30 was pretty sad looking. I was somewhat worried about the security of my new camera while in Europe, so I started to look for a strap that offered security and comfort. After searching, I came upon Lucky Straps. We were leaving in a little more than a week and I was worried that the strap would not make it in time, so i purchased a "Perfectly Imperfect Sale" strap (because it was ready to ship) and with the expedited shipping, the strap make it with two days to spare (AUS to US).
So on to the strap, it is beautiful with solid construction. The quick release system is easy to attach, and more securely attaches the camera to the strap than a traditional system. The regular length was just the right size to hold the camera securely while carrying out on the trails, mountains and in town. The anti-theft features also allowed me to focus on enjoying my trip and not worrying about my camera being stolen. The green stitching also looks great. If you need a quality camera strap, invest in Lucky Strap.